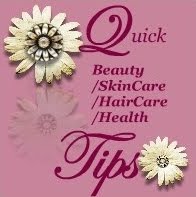 Ever been so inspired to do ur own facial treatment? Well, If so I ve got the right facial for u and more over its Pure Ayurvedic Facial. I can say that its also good for Sensitive Skin types, Cos mine is Sensitive and it suits me well. The Ingredients are highly natural and Ayurvedic and so quite beneficial. Ok..so no lets move on to it:
Ingredients Required:
2 Teaspoon Sandalwood Powder
A pinch of Turmeric powder
1 Teaspoon Neem Powder
1 Teaspoon Multani Mitti
1 Tablespoon Orange juice
1 tablespoon Mashed Cucumber
Process:
Mix up all of the above ingredients. Steam up r face. Cleanse with ur Cleansing Milk and then apply the mask. Let it sit for abt 20mins and rinse off, pat dry. Viola, u must be seeing ur face quite bright by now.
This is good for Acne prone skin as well.