A treat for your feet!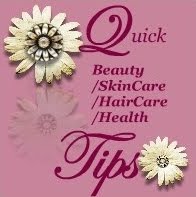 This little piggy went to the spa! Want a luxurious foot soak at home?
Fill a large container with hot water.
Add grated orange peel, 3 tablespoons cinnamon, and a 1/2 cup olive oil.
Soak your feet for 20-30 min.
Want that great feeling to last? Sleep with booties on! If u cant get the above ingredients, U can just throw in some oil, any oil (coconut oil or whatever..), in that hot water and soak up ur feet.
For long lasting result, Sleep with ur socks on.. Next day, Uld wake up with beautiful soft, crack-free feet.
Ciao Belles... :)