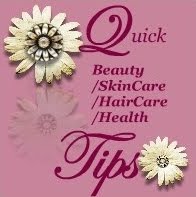 While U r in shower, try to wash ur face in the end of ur shower-session.
As far as possible, u have to go without splashing water on the face, from the start. Start with splashing water all over ur body, follow with soap, rinse off, and when u are all done by then, then splash water on face and follow the face-cleansing process.
Advantages:
By taking shower in that way, it ensures that there is not much moisture loss from face.
In other terms, ul be steaming up ur face since the start, while u r washing the rest of ur body and at the end, ul be cleaning the opened up pores on face, which reduces the need for heavy exfoliation.
This is a good thing to follow for dry skinned people.
So, Belles, next time when u r taking ur shower, wash ur face in the end when u r abt to step out of it.
Ciao Belle.. :)